Science versus public opinion
Posted on 2017‒08‒04
science
How do Americans' lay beliefs deviate from scientific knowledge? Let us count the ways...
Recently, the March for Science Facebook group posted a cute image macro: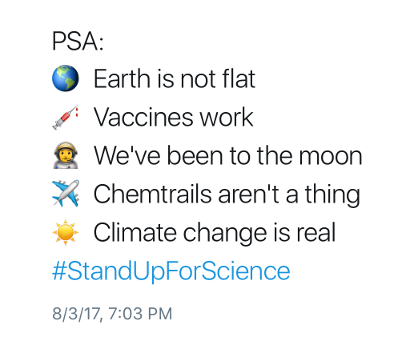 This list is a good start, but
it cites no sources,
is too short, and
isn't terribly informative.
Here's my take on addressing these issues, loosely sorted according to Library of Congress Classification:
🏳️‍🌈 Attepting to change one's sexual orientation doesn't work; most people experience "little or no sense of choice" about it.

2 in 5 Americans think that being gay or lesbian is "just the way some choose to live".

💫 Astrology doesn't work and isn't science.1

3 in 8 Americans think astrology is at least "sort of scientific".2

🌍 Earth is ball-shaped; it's about 10 000 km from equator to pole.3

It's not clear how many Americans believe Earth is flat, but there's anecdotal evidence that some do.4

🌞 When viewed from distant, fixed stars, Earth revolves about the Sun.5

1 in 4 Americans think it's the Sun about Earth.6

🌋 Earth is about 4 500 million years old.7

About 1 in 5 Americans believe the earth is less than 10 000 years old.8

🌌 The Universe is about 13 800 million years old, started with an explosion, and has expanded ever since.9

1 in 6 Americans think it didn't start with an explosion, and

1 in 6 think it hasn't been expanding.10

🌡️ Climate change is real and caused by people.11

1 in 10 Americans think climate change isn't real, and

3 in 10 think it's natural.

🐘 Every species alive today—humans included—arose from prior species through mutations modulated by natural selection.12

About 1 in 3 Americans don't think so.13

🤒 Antibiotics kill bacteria, not viruses.14

2 in 5 Americans think otherwise.15

💉 Vaccines are safe and effective.

About 1 in 10 Americans think that the health benefits are "low", the risk of side effects is "high", and that the risks outweigh the benefits.

🌊 Homeopathy doesn't work.16

1 in 50 US adults used a homeopathic remedy in 2012.

🌿 At present, GMO food is as safe to eat as non-GMO food.17

2 in 5 think it's worse.
Compiling this list was a useful exercise—it gave me some perspective on the bounds of the typical American's knowledge (and experience with typing emoji into Vim to boot). I might add some more items in the future, but I remember the words of a wise old sage: this is a dynamic list and may never be able to satisfy particular standards for completeness.
References
Smith, Tom W., Peter Marsden, Michael Hout, and Jibum Kim. 2017. "General Social Surveys, 1972–2016." National Science Foundation; https://gssdataexplorer.norc.org; NORC at the University of Chicago.
Zarka, Philippe. 2009. "Astronomy and Astrology." In The Role of Astronomy in Society and Culture, 5:420–25. Proceedings of the International Astronomical Union. doi:doi.org/10.1017/S1743921311002602.